Justin Doyle
From Wikizilla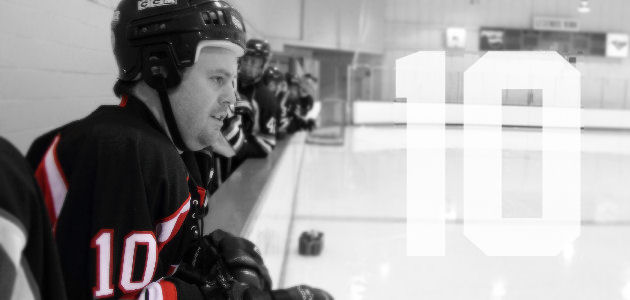 Player Data

| | |
| --- | --- |
| Height | ? |
| Shoots | Right |
| Position | Left wing |
| Favorite Carebear | Daydream Bear |
Beer League career
Justin "40k" Doyle was one of the charter members of Bladezilla, tasked by Dewey to pick up unsuspecting hockey "players" off the street to fill out a lineup. How did he do? Jason Martin thinks: "wonderful!"
Doyle has a reputation on the team as a checking forward, good at pressuring puck carriers and forcing them to make poor passes. He can squeeze a player out and has been very effective blocking shots though some are often from his own team – Justin is a man who can sit in front of a goalie and screen, screen, screen. Never let it be said Justin can't take a crosscheck and he is often rewarded with the much needed dirty goals.
In 2009 Justin was demoted to the BeeZee farm team outside Seattle, Washington, where he assures us he was not hiding from a team he was tired of losing with but rather being "paid" by his "employer." Sure, Justin. Whatever you say. We understand, really. "Distance makes the heart grow fonder."
Justin has recently found a home in the top 6 with his now semi-permanent winger and life-partner Daniel Hewson. Once part of the Triple D line of Daniel Hewson, Justin Doyle and Duncan Brown, Justin has seen his numbers steadily increase season over season.
Off the ice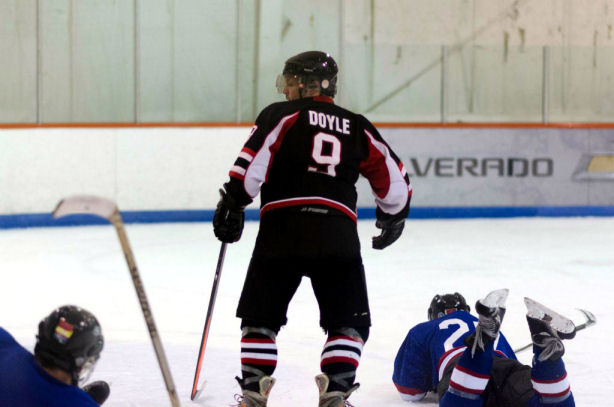 One of Justin's lasting legacies in Bladezilla is the Bz Game Cup. Free with specially marked cases of Molson, this quality glass was awarded by the previous winner to the player he deems to have had the best game that night by whatever standards he deems worthy. 1 season, 0 shards of broken glass found in the bottom of someone's bag. This award was lost or broken because, lazy idiots.
Justin also created the The Die Hard Dino which continues to be awarded following every game.
There is a great deal of karaoke video floating around as well. Stay tuned!
Career statistics
First Point:
The Bladezillas vs. The Stingers. - Oct 17, 2008 
1st - 12:45 Jason Manning ( Kent Welford, Justin Doyle) 

First Goal:
The Avalanche. vs. The Bladezillas - Mar 2, 2009 
3rd - 01:30 Justin Doyle ( William Fraser, Cory Jones ) 

Best season: Winter 2011-2012: 10 goals 7 assists for 17 points in 32 games.
Best Game: The Steelers. vs. The Bladezillas. - Nov 29, 2011. 5 points.
1st - 14:15 Michael Richards ( Justin Doyle, Kyle Johnson ) 
1st - 11:24 Justin Doyle ( Troy Shannon, Michael Richards ) 
1st - 06:28 Michael Richards ( Justin Doyle, Robert Antoniali ) 
2nd - 11:38 Justin Doyle ( Troy Shannon, Kyle Johnson ) 
3rd - 03:19 Justin Doyle ( Kyle Johnson, Troy Shannon ) 

Career hat tricks:
The Bladezillas vs. The Cariboo Mutts - Jun 2, 2014 
1st - 03:45 Justin Doyle 0296 ( unassisted ) 
2nd - 16:58 Justin Doyle 0296 ( Robert Antoniali, Dewey Booth ) 
2nd - 10:01 Justin Doyle 0296 ( William Fraser, Jason Martin ) 

The Steelers. vs.  The Bladezillas. - Dec 30, 2012 
1st - 12:05 Justin Doyle ( Robert Antoniali ) 
3rd - 12:45 Justin Doyle ( Jamie Wright ) 
3rd - 02:59 Justin Doyle ( Daniel Hewson ) 

The Steelers. vs. The Bladezillas. - Nov 29, 2011.
1st - 14:15 Michael Richards ( Justin Doyle, Kyle Johnson ) 
1st - 11:24 Justin Doyle ( Troy Shannon, Michael Richards ) 
1st - 06:28 Michael Richards ( Justin Doyle, Robert Antoniali ) 
2nd - 11:38 Justin Doyle ( Troy Shannon, Kyle Johnson ) 
3rd - 03:19 Justin Doyle ( Kyle Johnson, Troy Shannon )