Duncan Brown
From Wikizilla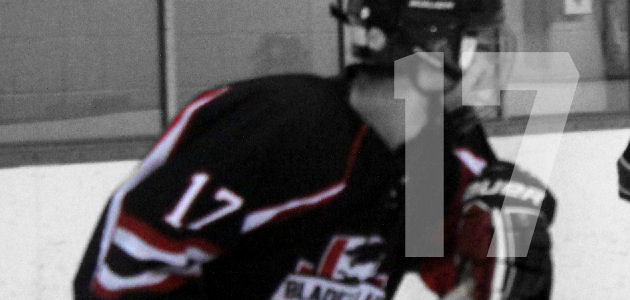 Player Data

| | |
| --- | --- |
| Height | ? |
| Shoots | Right |
| Position | Right wing |
| Favorite Carebear | Oopsy Bear |
Beer League career
Say one thing about Duncan Brown say he is a man who loves his ice hockey. He also loves: dancing, snowboarding and other physical activities that result in pain, injury and missed games. A lot of missed games. How do you get injured dancing? Guns dont kill people: trance does. (dub only kills the soul).
Duncan has proved himself a high-energy player. He zips around at full speed, no fear, taking hits and always on the offensive. Like Iron Man but, again, without any inkling of stamina. Balsa Man. Tony Bark? See what I did there? Duncan's forte is fore checking. Yes, he back-checks as he is always moving anyway so, hey, lets participate! but Dunk is especially effective when the opposing defence has the puck in their zone. No man skates harder and he has forced a few bad or ill-times passes in his time.
"Dewey Remebers..."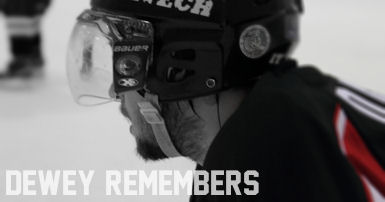 By Dewey Booth
Like most days in July it was a hot day, though you never would've known such a thing from the 3rd floor of the shaw tower while sitting in a training room (so I cant blame anything on heat exhaustion).
The date was July 26th of 2010 and I was on my first day of training in a room with a bunch of strangers about to start my new job. First order of business, or so the trainer told us, was to go around the room and introduce ourselves…this person that person this person that person…."Hi, my name is Duncan…and uh…I like hockey…" Within ½ a second of hearing this I lean forward look down the row 3 people and lock eyes with Duncan (I think that is what he said his name was?) and I said "Hey you like hockey? Want to be on a hockey team?" and of course we all know how that went… crowds cheered and Duncan gave the nod and said the words that has made all of our lives better "Uh yeah I guess." Within a few days Duncan had bought all the gear and has been with the BZ ever since. Tall, epic and ready to commit… everything I look for….er…..in a hockey player."
Random Anecdote
Once, after not paying attention to his belongings, Duncan had his tuque stolen and Frozen. Frozen Tuque!
Career statistics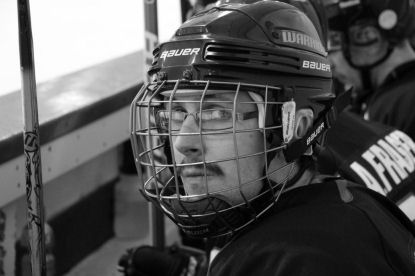 First Point:
The McKesson Jets vs. The Bladezillas. - Oct 23, 2010 
1st - 02:10 Stephen Halverson ( Duncan Brown, William Fraser ) 

First Goal:
The Bladezillas. vs. The Steelers. - Jan 22, 2011
3rd - 05:07 Duncan Brown ( Charlie Yao ) 

Winter 2010-2011 – 2 goals 7 assists for 9 points in 14 games.
Best Game: Duncan has had 3 points on 3 occasions:
The MTU Jets 19+ vs. The Bladezillas. - Nov 12, 2013 
1st - 16:48 James Eaket ( Michael Richards, Duncan Brown ) 
1st - 04:50 Adam Fraser ( Duncan Brown, Karl Gregg ) 
2nd - 09:12 William Fraser ( Duncan Brown, Dewey Booth ) 

The Bladezillas. vs. Splonkers - Mar 18, 2014 
1st - 16:48 William Fraser ( Duncan Brown, Jason Martin ) 
1st - 15:32 Duncan Brown ( William Fraser ) 
3rd - 03:15 Duncan Brown ( Stephen Halverson ) 

The Bladezillas. vs. The Havoc - Feb 7, 2011 
1st - 08:16 Brian Giorgio ( Duncan Brown) 
1st - 03:32 Brian Giorgio ( Duncan Brown, Jason Martin ) 
3rd - 00:17 Duncan Brown ( Sean Ruczko )

Awards