Troy Shannon
From Wikizilla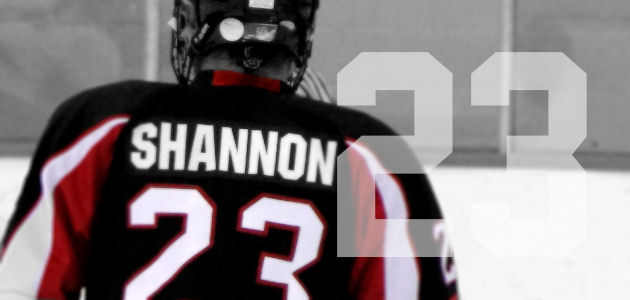 Player Data

| | |
| --- | --- |
| Height | ? |
| Shoots | Right |
| Position | Defense |
| Favorite Carebear | Oopsy Bear |
Beer League career
Troy Shannon is a busy man. When not producing a legion of children Troy somehow finds the time to man the point with his oft-times pairing partner Will, dj for the locker before and after games (I still dont think we have hear a song recorded after 1998 – so much rap for someone so white) and manage some of the team finances online. So much good being done, so much "Take My Breath Away" after each lose. Got to stop losing.
More than anyone else on Bz Troy has come to excel in his roll. believe it or not Troy was not always a defenceman! Yes! Its true! I remember thinking, back when I was young, that this Shannon kid wasnt going to cut it on the blue line. Off the boards, Shannon! Off the boards. Somehow, in a few quick years, it would be hard to imagine the line without him. Shut down Dman who puts in the odd slapshot. Stands his guys up, protects the goalie. Good times!
Random Anecdote
Troy does not like to dress up for our award dinners. The first year, alongside some of our other dmen, Troy was fed hot dogs "because if you dress like your going to a bbq…" To his credit Troy did wear a tie the second year, Tazmanian-Devil-In-A-Blue-Jays-Uniform notwithstanding. Baby steps!
"Behind The Mask"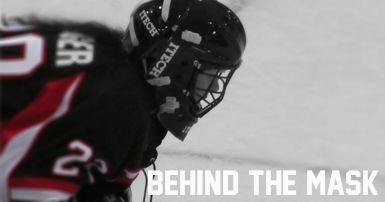 "I remember the first day I met Troy- he just a young punk with blang and a backwards cap, shootin some b-ball outside of the school.
Okay, fine, that's not how we met! But everything is so much cooler in my imagination…and less traumatizing. We might as well be childhood friends though, I know him so much better than the other Bz defensemen. Know why? Because Troy actually kind of stayed back and played D sometimes. Crazy, right?! But I speak the truth.
And when I say he played D, I am of course referring to defense in the context of early BZ days, so that by no means implies he actually played legitimate defense. But I did see him more often than the others. For that, he will always hold a special place in my heart and I will choose to ignore/forget (see, concussions help!) all the goals you tipped past me.
Well, that and he is the keeper of my special lady picture. He always finds a way to make each player feel right at home! Thanks buddy."
"Dewey Remembers..."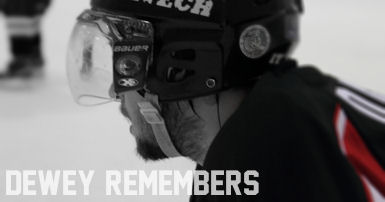 by Dewey Booth
We all know about Troy from his choice in music and his love for babies…so its only fitting that the story of Troy (not the movie or place) starts off somewhere a bit different as well…
As we all know we lost Will's dad Super Fan Gord Fraser too early in the BZ history books but with every storm cloud there is a silver lining….and in this case that silver lining was dressed formal and was yet to play rap music. At the funeral for Lord Gord Will and I bumped into OLD high school acquaintance Troy Shannon…small talk started off like any other conversation….how have you been….what are you up to now blah blah blah blah blah…then filled with pride for my team (like I always am) we mentioned to Troy that we're running a hockey team and if he ever wanted to come out and play for us that he would be more then welcome…Troy accepted and the BZ world would never be the same again….
Honestly I never expected this offer to actually turn into anything….I just sorta figured it would be like saying 'yeah talk to you soon' but as it turns out I got his number called him up to spare and he showed up….then showed up again….and again…and brought porn…and showed up more….then music….and now somehow he is allowed to sign out chqs….go figure…
Troy is the only member of the team to Join the team through contact at a funeral….I still consider Troy as Lord Gords final blessing on the BZ….though so far he is a blessing in disguise…
Career statistics
First Point and First Goal:
The Bladezillas. vs. The Havoc - Oct 16, 2010 
2nd - 03:16 Troy Shannon ( unassisted ) 

Best season: Winter 2011-2012 – 3 goals 10 assists for 13 goals in 28 games.
Best Game: Steelers. vs. Bladezillas. - Nov 29, 2011. 4 assists.
1st - 11:24 Justin Doyle ( Troy Shannon, Michael Richards ) 
2nd - 11:38 Justin Doyle ( Troy Shannon, Kyle Johnson ) 
3rd - 08:25 Stephen Halverson ( Dewey Booth, Troy Shannon ) 
3rd - 03:19 Justin Doyle ( Kyle Johnson, Troy Shannon )