Kyle Johnson
From Wikizilla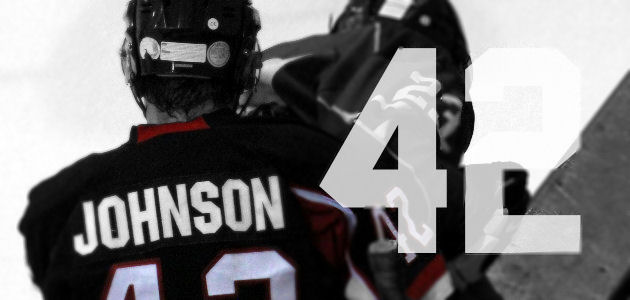 Player Data

| | |
| --- | --- |
| Height | ? |
| Shoots | Right |
| Position | Right Wing |
| Favorite Carebear | Harmony Bear |
Beer League career
Kyle has two very positive things going for his career in British Columbia's finest beer league. First, he keeps winning Bz Most Improved Player Awards. Two in a row, in fact, which puts him with a very select group of Bz to ever win the same award twice. More importantly than collecting hardware, however, is the fact that Kyle keeps getting better. Kyle is the prototypical Bz: he joined the team never having played ice hockey before. Like those before him he cried himself to sleep after every game for his first year, avoiding mirrors when in his jersey and looking at Will with undisguised loathing and envy. Following the Zilla Path laid out before him Kyle has gotten better every year, rounding out his game and making his mother (Dewey?) very proud.
Kyle has turned into a shutdown forward, excellent at watching his point and squeezing the opposing defenceman out of our zone or against the boards. Also: his jersey number is a Hitchhikers Guide to the Galaxy reference, and that counts for a lot. Its hard to pick a nickname for this very reason; Jason prefers Kyle "Minogue" Johnson because he is so very pretty but "The Answer" seems a little more intimidating. I guess. Pfft.
Off the ice
Kyle was forced to move to Dawson Creek, BC, for work, and missed parts of 2 seasons with only the odd appearance, but has since rejoined the team full time in 2014.
Career statistics
First Point: (Richmond League)
The Bladezillas vs. The Nutrabolics Hockey Club. - Nov 21 2009.
2nd - 11:49  Robert Antoniali ( Kyle Johnson )  

First Goal:
The Havoc vs. The Bladezillas - May 7, 2011 
3rd - 03:57 Kyle Johnson 0295 ( Mike Pollard, Robert Antoniali ) 


Spring 2011 – 2 goals 7 assists for 9 points in 14 games.
Best Game: Steelers. vs. Bladezillas. - Nov 29, 2011. 3 assists.
1st - 14:15 Michael Richards ( Justin Doyle, Kyle Johnson ) 
2nd - 11:38 Justin Doyle ( Troy Shannon, Kyle Johnson ) 
3rd - 03:19 Justin Doyle ( Kyle Johnson, Troy Shannon )

Awards