Dewey Booth
From Wikizilla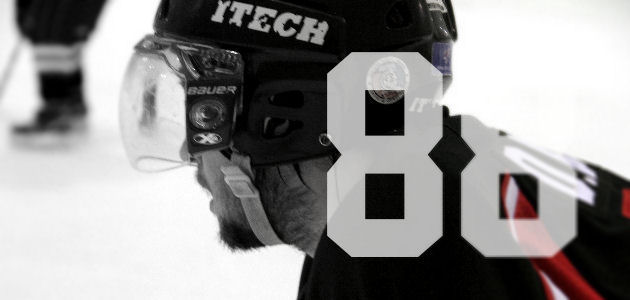 Player Data

| | |
| --- | --- |
| Height | ? |
| Shoots | Right |
| Position | Right Wing |
| Favorite Carebear | Love-A-Lot Bear |
Beer League career
Dewey "I'm Not A Paleontologist But I Bone A Lot" Booth(See: That Dinosaur Story ) (see also: Van Hussen holds 2 distinctions with Bz: Dewey was the first member of the team, creating it and "managing" it since 2008, and is the player who has spent the most money over time to play (not to be confused with the most money to play per game" which is held by Karl Gregg ). To say that Dewey dipped into his savings that first year is something of an understatement. But we're glad he did! Pretty glad. Mostly glad. Glad means something different to everyone, really. Its hard to quantify.
That first season was not just exciting financially for our Dew Drop but physically as well. He was hit with a puck, if memory serves, and chipped a tooth. Not wanting to lose more teeth the next time a puck came high he caught it! Open handed. With his finger, which nearly came off, filled his glove with blood and saw him leaving the game for the emergency room. Stitches were involved, and likely some regret. Dewey has not repeated this action since, oddly.
Dewey is currently in contention for the Most Played Games in Bz franchise history (see: Bz Franchise Records ), sleeping with the light on and avoiding dark streets at night/people that look like Jason and are carrying a lead pipe
Off the ice
Dewey Booth has been Bladezillas' General Manager since its inception and, among other various duties, collects league fees, organizes games and rosters, assists Jason Martin with the team awards and ceremonies, and basically anything else that needs to be done.
Dewey does not like to think about the money he lost during the team's first season.
Career statistics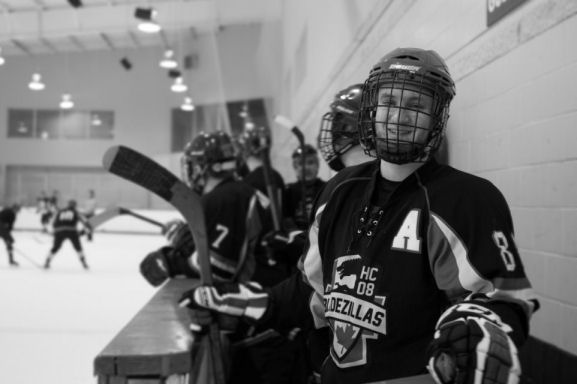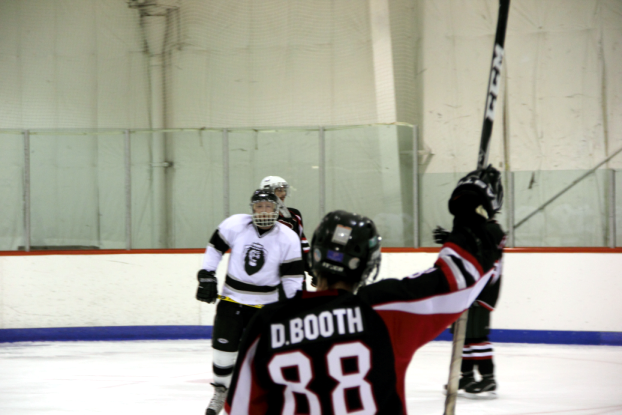 First Point:
The Avalanche. vs. The Bladezillas - Oct 5, 2008:
1st - 15:14 Jason Manning ( Mike Byun, Andrew Booth ) 

First Goal:
The Hammerheads vs. The Bladezillas - Oct 12, 2008. 
1st - 01:45 Andrew Booth ( Kent Welford ) 

Best season: Spring 2010 – 12 points in 11 games.
Best Game: Dewey has had three 4-point games:
The Mad Ferrets vs. The Bladezillas. - Jan 25, 2014
1st - 17:20 Robert Antoniali ( Daniel Hewson, Andrew Booth ) 
1st - 16:00 Nick Hurley ( Andrew Booth ) 
2nd - 12:00 Sean Ruczko ( Robert Long, Andrew Booth ) 
3rd - 13:39 Sean Ruczko ( Andy Lee, Andrew Booth ) 

[[The Havoc vs. The Bladezillas - Jun 23, 2013 
1st - 15:10 Andrew Booth 0293 (Stephen Halverson ) 
2nd - 16:48 Stephen Halverson ( Troy Shannon, Dewey Booth ) 
3rd - 12:30 Dewey Booth ( Jason Martin ) 
3rd - 01:46 Stephen Halverson ( Dewey Booth, Justin Doyle ) 

The Bladezillas vs. The Manimals - Jun 9, 2012
2nd - 12:22 Robert Antoniali ( Dewey Booth, Sean Ruczko ) 
2nd - 07:34 William Fraser ( Dewey Booth ) 
3rd - 08:30 Brian Giorgio ( William Fraser, Andrew Booth ) 
3rd - 04:05 Robert Antoniali ( Dewey Booth, Kyle Johnson ) 


Career Hat tricks:
*notation required.

Awards