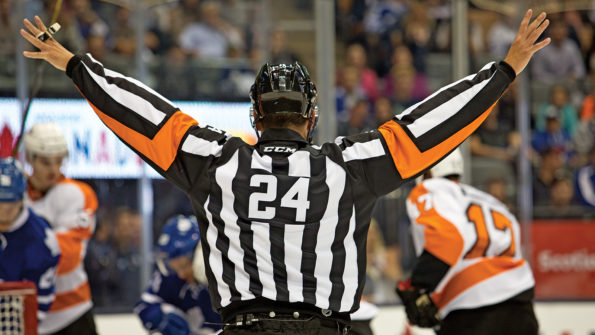 Despite 2 goals by returning winger Dan "A Koala Stole My Dangle" Hewson, the Bladezillas were defeated 5-4 in a closely contested battle against the Refs tonight, losing short handed in extra time.
We caught up with BeeZee Defenseman Sean "Even I Spell My Last Name Wrong Sometimes" Roozku after his team's OT loss to ask him about the game. "It was a tough battle out there, and you have to give the refs all the credit in the world. When I was a kid I used to have all their cards – VanHellemond, "Red" Storey… I still have my signed Scapinelo rookie card, somewhere. I always wanted to be a difference maker, the guy on the ice when the important goal is scored, right in the middle of it. You have to admire those guys. We'll get them next time."
Rukzuku had a goal and an assist in the loss and nearly ended the game with the opposing net empty late in the 3rd.
"In addition, should a player about to come onto the ice, play the puck while one or both skates are still on the players' or penalty bench, a minor penalty for interference shall be assessed." -NHL Rule Book Section 56.2
"It was really hard out there tonight" said bottom-div referee Greg McMannon after the game. "Putting on the ol' White and Black, it feels like a whole different game. You always feel like you are outnumbered out there and the fans, man, they expect so much of us these days. You have to really give it your all every night."
"Robble, robble" –  The Hamburgler
Despite  their full roster and late-game come back, the Bz couldn't keep up with the Ref's end to end skating and net presence.
"We had a lot of really close calls our there tonight" said Ref and Man Who Can't Wait For Spring So He Can Get That Riding John Deere He Has Been Eyeing Since 2008, Fred Green. "With time dying down and that leprechaun all over [Bz goaltender] Hagarty… then the net came off the pegs! Man… I didn't think we were going to get that goal there but, somehow, we got it done. That's why we do it, right there. That is what it is all for."
"On the outside you're ablaze and alive
But you're dead inside!" – Muse
Duncan's playlist could not be reached for comment.