Pregame Predictions: The Bladezillas vs. The Hustle Gang
1. The Bz are unable to take the 15 skinny, socially awkward computer programmers suiting up for the Hustle Gang seriously.
Except the one guy dressed like this: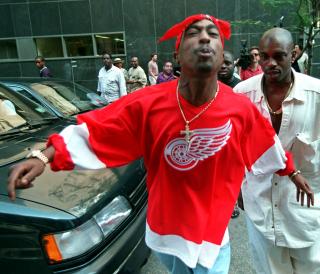 2. He will get Rob ejected (but stay in the game himself) in the 2nd period, earn "Mad Props" from his homies in the crowd (and incarceration).
3. Dewey "It Hurts When I Pee" Van Hussen will realize that his urine is now a Bladezilla color, drink 2 gallons of water a day to "build team pride and unity."
4. Dan "The Canadian Idol" Hewson, karaoke superstar, will tally 3 points vs. the Hustle. Speaking to the media post game Dan will say of his SOG: "I hit them with my best shot – I fired away!" and lead the room in a rousing guitar solo.
5. Tavis "Arrrr?" Wu, "Super Sigh" Jimmy Hoany and Kevin "Are You My" Papilla will continue their trend over the last combined 14 games and get zero points, be a source of constant disappointment to their family and friends.
6. One of the 3 mentioned previously will google their names one day, find this website. They will appreciate not having their names hyperlinked to insulting images.
7. For the 267th consecutive game Joleen "Honey" Badger will be a healthy scratch for the Bz as she holds out for a better contract, defense.
8. The Hustle will fall to 2-7-0.