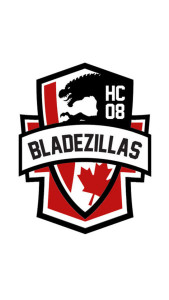 The Bladezillas have ended weeks of speculation Tuesday night, naming long time player Justin Doyle as the new Head Coach for the 2017 Spring League.
The blog and stat focused reader will waste no time pointing out that during his career Doyle played 270 games over 8 seasons with the Bladezillas, but they would have no idea how difficult the road has been for this Prince Rupert-born player-turned-coach. Doyle's offensive upsides and ability to make appropriate league payments on time made him the second signing by the Bz in their inaugural 2008 season. He tallied 78 goals and 96 assists for 174 points — Good enough for 6th all-time in franchise history.
In his final ASHL season (Winter 2016-2017) Doyle was at the end of his contract and largely discouraged by watching fan favorite player-GM but bitter rival Dewey Van Hussen speak to the media on several occasions about his team's need to get younger and faster and better looking in order to compete for the team's first division championship. His career winding down, it was time, perhaps, for a change.
"Like those Maiar before us we too must change form from time to time if we are to succeed; let Bz not fall from the memory of man entire." -Dewey Van Hussen
Doyle decided he wanted to coach. It's a wonder he chose to stay in hockey at all.
Doyle has never been an ASHL head coach — nor even an assistant — and this will be the second time in three years that Bladezillas GM Dewey Van Hussen have switched up the front office, having fired interim Head Coach Joleen Badger for absenteeism and abuse of power, several lawsuits concerning which are still ongoing. The role of Head Coach had been filled by a half-empty bottle of Green Apple Powerade this season while Van Hussen interviewed possible replacements.
"Jesus Christ, this team has a blog? What the fuck did I get into?" -Spring Player No One Has Learned The Name Of Yet
Former Beezee coach Powerade Bottle was criticized for not being lenient enough with young players, even as he was successfully hydrating several of them. An irony to the Doyle hiring is that the new coach may be "even more hydrating" than Powerade Bottle, according to Defense-man of the year Bob Beardmore. No specific details were forthcoming or requested.
"Hard work, uncompromising leadership and all the electrolytes an athletic body needs – we had all the right tools." -Green Apple Powerade Bottle
Right winger Kyle Johnson said of the news: "He's a very driven guy. He is a hockey guy through and through; he could talk hockey 24 hours a day. On and on. Until you don't think you can take it anymore and you start wrapping skate laces around your neck, tight, and tighter, until your face is red like our jersey and you think "if he wasn't so into talking hockey he would notice and try to help me but he is, and, you know, I think this is the right role for him."
The Bladezillas think so, too.