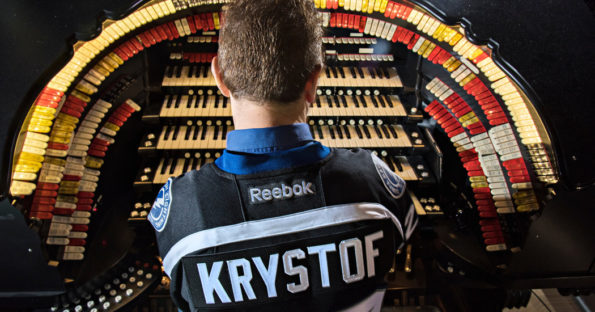 Welcome to the most click-baity article in the history of this blog! I suppose we could have added "You Won't Believe What They Chose!" but, hey, you have to leave a little something for next time, right? And, yes, despite the regularity of posts recently there will be a next time. Asshole.
Recently we spoke to 15 Bladezillas informally and asked them a simple question: "If, like on the Canucks, you had a song that played every time you scored, what would it be?" The answers were sometimes honest, often hilarious and, I think, great fodder for a blog that can't bring itself to chronicle this spring season in Burnaby.
We will try to link everyone's song choice to a video just in case you've never heard of it before – some of these songs are pretty obscure despite what I assume is the deep personal meaning to each player.  If the player gave a reason for the choice we will include that as well. Enjoy!
Editor's note: Winger Jamie Wright, despite already having a locker intro song with Steel Panther's "Asian Hooker," was still asked if, given the chance, would he want a goal song. Said Wright: "I score so often, I mean, we'd never get out of here if we heard a song every time I scored! Maybe play something when I get an assist? How about Beethoven's Symphony No. 9 in D minor, Op. 125 (Choral). Yes. Exquisite." (Editor's note: Bethoveen's 9th Symphony is usually conducted in 68 minutes. Jamie had X ASSISTS during the winter 2016-2017 season).
Assistant Captain Dewey van Hussen: "I know you want me to say the theme to "Jurassic Park" or something stupid like that you sarcastic fuck but I won't say it. I want something with impact, something that fires the blood. I want "Inside of You" by Infant Sorrow."
"I don't want music. I'm happy with the usual (if infrequent) shocked, stunned silence." – Bob Long
Robert Antoniali: "Could we play a song every time I get a penalty? I'd like to hear my music as often as possible, which of course is my way of requesting "Take On Me" by A-Ha."
Winger Jason Martin: "This was always heading towards one joke, so lets get it over with: "Slow" by Kylie Minogue. Happy? Great. This interview is over."
Goalie Pat Hagarty: "I'd really like to hear music every time someone scores on me! I want to hear "I think we're alone now" by Tiffany." Who should I dedicate this song to, Dewey? Sean? Any ideas, anyone? Oh. There is no one around me to ask, what a surprise."
"Inside of you,
Inside of you!
There's got to be
Some part of me
Inside of you."

-Infant Sorrow
Sean Ruckzo – "Thats a good question, Mr Zilla, I'm glad you asked. I've thought long and hard about my evolution as a hockey player; I hope my journey from enthusiastic and naturally gifted defense-man to speedy two way, some might even say Jovanoski-esque powerhouse, was as exciting for my fans as it was for me. Hockey is my passion! I think, when I score… "Bicycle" by Queen. Yes, Absolutely. Bicycle, bicycle! Glorious."
Karl Gregg: "I don't listen to music, hate the stuff." (Editor's note: We asked Karl why he has headphones on pre-game, and asked if we could see the playlist on his phone. Karl looked confused as he produced a 2003 Motarola Razr. We slowly backed out of the interview, room, at this point)
"I think we're alone now
There doesn't seem to be anyone around
I think we're alone now
The beating of our hearts is the only sound."

-Tiffany
Dan Hewson and Justin Doyle: "We were discussing this over breakfast yesterday morning, or was it brunch, Justin? I think it's rather obvious" said Hewson. "Quite right" his wing partner replied. "We simply had to have "We Belong Together" by Pat Benatar." "Delicious!"
Kyle Johnson: "I feel this, like, for real, dog. This is my life. Hockey and making bitches thirsty. Yo, I mean, yo! You know? Thats why I gotta take a hit of "This is why I'm hot" by my [slur deleted] MIMS, for real. Represent."
I'm that star up in the sky
I'm that mountain peak up high
Hey I made it, hmm
I'm the worlds greatest

-No Bladezilla, Ever
While we couldn't be bother to call any spares to see if they wanted a theme as they are not real people and don't matter. We made the lazy and obvious dad-joke-level decision to use "Call on me" by Eric Prydz. Mostly because we need an excuse to watch this video over and over and over again.
Mike Pollard, who claims he plays for the team but at deadline we were unable to confirm his place on the roster or if this is his real name, asked to hear "Unforgettable" by "Nat King Cole" who, Pollard assures us, is a real person and was "super popular with all my school chums when I was but a young lad in 1920s Boston."
"Have we become a habit?
Do we distort the facts?
Now, there's no looking forward
Now, there's no turning back
When you say

We belong to the light
We belong to the thunder
We belong to the sound of the words
We've both fallen under

Whatever we deny or embrace
For worse or for better
We belong, we belong
We belong together."

-Pat Benatar